The Black Contractor - Gemini of the Meteor - First manga series - Shikkoku No Hana
---

We now have top ten lists which can be voted on by all users. Check them out on the Top 10 Lists page and get voting.
Discussion on updating the infoboxes at this link.
We now have pages for the chapters of first and second manga series.
Darker than Black - Gaiden OVA 4 has aired and the sub is out.
'Gallery' project is suspended for the time being.
[ view ] [ suggest ] Featured Article
(Yin)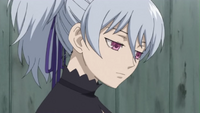 Yin is a supporter in Hei's team and an emotionless spirit medium known as a Doll. Yin's pale Irises (possibly cataracts) may contribute to her total or partial blindness. It is implied that she has feelings for Hei, when Amber compared that they were both similar in that aspect and asked her to ...
Visit here to read the rest...
[ refresh ] Random Image

We currently have 820 images and a select few circles mainpage everytime you refresh the page. Click refresh to view a different character image.
Spring Season 2019 Anime Wikis

TV Anime

TV (Multiseason)

ONA




OVA

Specials

Film
<youtube width=294 height=210>CRVj2e182-o</youtube>
See your results here! Suggest a poll here!
---
Which Doll is your favorite?
See here for more information on the subject.

Ask a question on Wikianswers Anime.