The Black Contractor - Gemini of the Meteor - First manga series - Shikkoku No Hana
---

We now have top ten lists which can be voted on by all users. Check them out on the Top 10 Lists page and get voting.
Discussion on updating the infoboxes at this link.
We now have pages for the chapters of first and second manga series.
Darker than Black - Gaiden OVA 4 has aired and the sub is out.
'Gallery' project is suspended for the time being.
[ view ] [ suggest ] Featured Article
(Amber)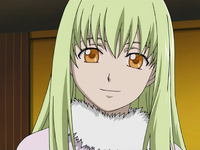 Amber is a powerful Contractor capable of manipulating time. Also known by the codename February, she is a former member of MI6 and the Syndicate but is now the leader of the EPR group which is fighting the Syndicate. Having played a role in the Heaven's War, Amber now plays a pivotal role in the battle to stop the Syndicate from destroying the Hell's Gate...
Visit here to read the rest...
[ refresh ] Random Image

We currently have 820 images and a select few circles mainpage everytime you refresh the page. Click refresh to view a different character image.
Community content is available under
CC-BY-SA
unless otherwise noted.