The Black Contractor - Gemini of the Meteor - First manga series - Shikkoku No Hana
---

We now have top ten lists which can be voted on by all users. Check them out on the Top 10 Lists page and get voting.
Discussion on updating the infoboxes at this link.
We now have pages for the chapters of first and second manga series.
Darker than Black - Gaiden OVA 4 has aired and the sub is out.
'Gallery' project is suspended for the time being.
[ view ] [ suggest ] Featured Article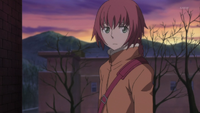 Suou Pavlichenko is the twin sister of Shion and the daughter of Mikhail Pavlichenko, a scientist who was studying Contractors. She herself became a Contractor, and is currently a part of Hei's team along with July and Mao as they rush to find Shion before Section 3 find him. Along the way, they find and attempt to rescue Yin and uncover life changing secrets about Suou...
Visit here to read the rest...
[ refresh ] Random Image

We currently have 820 images and a select few circles mainpage everytime you refresh the page. Click refresh to view a different character image.
Community content is available under
CC-BY-SA
unless otherwise noted.