The Black Contractor - Gemini of the Meteor - First manga series - Shikkoku No Hana
---

We now have top ten lists which can be voted on by all users. Check them out on the Top 10 Lists page and get voting.
Discussion on updating the infoboxes at this link.
We now have pages for the chapters of first and second manga series.
Darker than Black - Gaiden OVA 4 has aired and the sub is out.
'Gallery' project is suspended for the time being.
[ view ] [ suggest ] Featured Article
(July)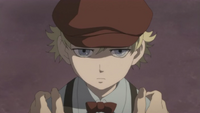 July is a Doll whose tracking power relies on glass. He works initially with November 11 and later Hei. Able to remotely observe any area so long as there is glass present, July serves as a valuable support member of both Contractor's teams. He later becomes attached to Suou Pavlichenko and participates in her quest to find her brother, Shion...
Visit here to read the rest...
[ refresh ] Random Image

We currently have 837 images and a select few circles mainpage everytime you refresh the page. Click refresh to view a different character image.