Kanami Ishizaki (石崎 金波? Ishizaki Kanami) is a scientist and served as the head of staff at the Observatory. She is the best friend of Misaki Kirihara.
Personality
Edit
She is also Misaki Kirihara's friend. She advised Misaki to forget about BK-201 (Hei) and find another man. She is known to have a carefree personality. She also smokes. Because of her smoking, Misaki constantly tells her to stop, due to her dislike for smoke and obedience to prohibition rules.
Appearance
Edit
Kanami has medium-length, light brown wavy hair which she typically keeps tied up in a short ponytail with two bangs of hair framing her face. She has brown eyes. She wears pink lipstick. She often wears revealing clothing, which her close friend Misaki Kirihara dislikes.
Background
Edit
Kanami attended high school with Misaki and Alice Wang.[1]
Part in the Story
Edit
The Black Contractor
Edit
Shikkoku No Hana
Edit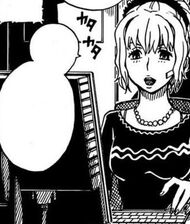 Kanami quits her job at the Observatory after it is decided that the Doll system should be closed. While discussing this with Misaki, she states that she is thinking of leaving Japan and taking up an invitation to be work at an observatory in Hawaii. She states that she wants to live as far away form Hell's Gate and Contractors as possible. She teases Misaki about Hei before reassuring her after she reveals the struggle she has had with catching Hei and making things better. Misaki tells her that Section 4 is being dissolved and she will be transferred elsewhere. She thanks Kanami for listening and leaves.[2]
Kanami later hacks in to PANDORA's servers in order to scan the Nishijima building for Misaki. She then informs Misaki that things appear to be serious there, with everything below the lab level sealed off as enemy forces are inside. Misaki asks if there is another way in and Kanami tells her about a crane on the roof of the second tower of the building which she might be able to use to gain access to the tower she wishes to infiltrate.[3]
Gemini of the Meteor
Edit
Kanami discusses the disappearance of BK-201's star with Misaki on the phone and tells her to forget about him and get another man.[4]
Apperances
Edit
Season Two Appearances
The Black Cat Doesn't Have a Dream of the Star...
The Fallen Meteor...
Vanishing Into the Snow Field...
The Ark Trembles on the Lake...
Gunpowder Smoke Drifts Away, Life Drifts Away...
The Smell is Sweet, the Heart is Bitter...
The Doll Sings to the Wind Flower...
On Summer Days, the Sun Sways...
A Sudden Meeting On A Certain Day...
Your Smile in the Street of Lies...
The Water Bottom Dries, the Moon is Full...
The Ark of Stars
References
Edit
Community content is available under
CC-BY-SA
unless otherwise noted.