He is a chief of security at the PANDORA research facility in Tokyo, charged with recovering the missing Meteor Fragment.
Appearance
Edit
He has short brown hair and grey eyes. He wears a uniform of PANDORA's security division, sometimes with body armour.[1]
Personality
Edit
Part in the Story
Edit
The Black Contractor
Edit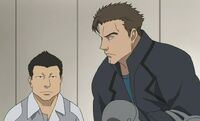 When a new group of recruits arrives at PANDORA's admissions centre, he notices Corinna Moku acting erratically and subdues her with a stun gun, before ordering her to be taken away for re-testing. After she is allowed in to PANDORA proper, Corinna is murdered. He leads the investigation into her death. Kituchi informs him that Corinna and Hei appeared somewhat close. He interviews Hei, questioning if he killed her as a crime of passion before eventually releasing Hei.[1]
When an expedition team into the Hell's Gate fails to recover the stolen Meteor Fragment and is instead almost completely wiped out, the agitated Chief returns to his office to find Eric Nishijima there waiting for him. Nishijima warns the chief that he is on his last chance and that even he cannot convince the executives to give him another chance.[2]
The chief later follows Nick Hillman in to the Hell's Gate where he confronts the scientist, suspecting him of possessing the Meteor Fragment. He tells Nick to put his hands against a row of lockers while he opens the one Nick had being trying to open. However, Nick uses his Contractor power to electrocute the chief, who dies.[2]
Appearances
Edit
Season One Appearances
The Star of a Contract Fell...
The New Star Twinkles...
The Red Dream of a Calamity...
The Gardenia Gives Off Fragrance...
The Pure White Dress Is Stained...
Within the Wall... †
On a Silver Night...
The Memory of Betrayal...
I'll Sing a Love Song...
Without Dreaming Shallow Dreams...
The City of Regulations...
God's in His Heaven...
Meteor Shower
Is the Dream That a God of Death Has...
Beneath Cherry Blossoms...
References
Edit
Community content is available under
CC-BY-SA
unless otherwise noted.